Steel Doors
Our polyurethane-filled, heat-galvanized steel door panel is covered with a primer coat for extra protection and exceptional durability. Steel doors are known to be inexpensive, very easy to maintain, secure and energy efficient.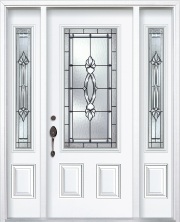 General
Scope: Subject to local building codes, this product is intended for use in:
One and two family dwellings.
Low-rise multifamily dwellings, low-rise professional offices, libraries and low-rise motels.
Lighter use industrial buildings and factories, hotels, and retail sales buildings.
Product Description: Side-hinged door systems manufactured by MASONITE or meeting MASONITE specifications.
Door system components include: door panel(s), sidelite panel(s), glass inserts, door frame, hinges, weather seals.
BASIC MATERIALS
Door Panel: White Polytex painted Masonite HD steel-edge steel doors shall be fabricated using 4-piece construction that includes white 0.0215" (+/-0.0015) hot dipped galvanized strike side and hinge side steel facings, coated with multiple protective chemical layers to promote paint adhesion and deter corrosion. Top rail is finger jointed wood or steel channel. Composite bottom rail is moisture and decay resistant. Lock areas reinforced for single and double bore configurations. Door facings are to be interlocked together utilizing plastic thermal break forming a mechanical bond. Insulated core to be poured-in-place, high performance polyurethane foam (2.0 pcf minimum) forming a secure attachment to all door components.
Bottom rail may be machined to accept weather seal. Mounting surface for latching hardware to be reinforced with solid internal blocking. Hinge preparations with 12 gauge reinforcement plate are to be placed at MASONITE specifications and are to be machined for standard weight full mortise 4" butt hinges. Latch preparations are to be placed at MASONITE specifications. Face bore(s) for cylindrical lock and deadbolt are to be 2-1/8" diameter at 2-3/4" or 2-3/8" backset and 5-1/2" on center (5-1/2" or 10-1/2" on 8'0" panels).
---
Glass Insert: Specialty™ insulated glass inserts shall befabricated in 1/2" double pane or 1" triple pane construction. Glass frame may be "lip lite" design in rigid plastic or cellular vinyl.
---
Door Frame: Wood frames shall be fabricated as a single rabbet jamb design. Hinge jamb(s), strike jamb, head jamb, and mullion(s) shall be machined to accept a kerf applied weather seal. Hinge jamb preparations are to be placed at MASONITE specifications and are to be machined for standard weight full mortise 4" butt hinges. Strike jamb preparations are to be placed at MASONITE specifications and are to be machined for full lip cylindrical strike plate. Inswing or bumper outswing threshold shall be high-dam design. Low profile threshold shall be required for handicap accessible openings. Double door units shall include a t-astragal attached to the "passive" panel with top and bottom flush bolts that securely strike into the head jamb and threshold.
---
Hinges: (3) standard weight full mortise 4" butt hinges are required on doors 7'0" height or smaller & (4) on doors greater than 7'0".
---
Weather Seal: Door frame shall be fabricated featuring a vinyl wrapped foam filled compression design that is kerf installed. Corner seals shall be installed to the rabbet section of the door frame at the bottom of the hinge and lock jamb. Door bottom sweep shall be sealed and securely attached to the operable door panel(s). similar to that required for this project. Comply with manufacturer's product data, including product technical bulletins, product catalog installation instructions and product packaging instructions for installation.
---
Flashing, Insulating & Trimming: Exterior of installed unit shall be flashed, trimmed & sealed to prevent air infiltration and/or water penetration. Interior of installed unit shall beinsulated & trimmed to prevent thermal and/or acoustical transmission.
Fiber Glass Doors
Our rustproof fiberglass door panel is not only scratch and dent resistant; it offers exceptional strength and durability too!! Fiberglass is known to require little maintenance over the years, to be strong, durable, rot and moisture free as well as energy efficient but is more expensive than steel doors. Our fiberglass door panel manufacturing process delivers a superior finish and remarkable quality of paint and stain.

Fiberglass doors score high when durability matters. They last long and stay sturdy surpassing severe climatic conditions. In comparison to wood, you will find that fiberglass doors are more energy efficient. You have to treat wood door with preservatives to protect it from termites, but fiberglass door makes you free from any such trouble.
Cost:
Fiberglass doors are less expensive than wooden doors, but with utmost sturdiness and durability, they add value to your money. You may need to renew or repair the wood door numerous times, but fiberglass can last for decades.
Durability:
If we evaluate fiberglass exterior doors with wood doors, the later has the tendency to bloat and decay in the long run, and are likely to endure irretrievable damage as these doors a vulnerable to dampness and temperature changes. On the other hand, low maintenance requirement of fiberglass doors is one of the prime advantages as fiberglass door does not split, distort, decay or bloat due to clamminess or moisture and can defy harsher weather environment than wood doors.
Finish:
Fiberglass doors look very much like wood doors that it is difficult to distinguish between the two. Wood doors have a natural texture with attractive grains and finishes, where as fiberglass doors are created to reflect actual wood grain. When necessary, both materials can be painted or stained, sanded and refinished.
Fiber Glass Doors Custom Features
A new fiberglass entry door can add substantial curb appeal to your home without costing a fortune. Fiberglass is virtually maintenance free and will not warp, rot, dent or split.
Our #1 Recommendation.
Deep embossing and panel detail provide the most significant curb appeal
The exclusive "HydroShield Technology™" features fiberglass reinforced door skins, full length composite stiles and composite top and bottom rails to prevent water infiltration on all six sides
Available in smooth or woodgrain designs
The woodgrain series (Oak, Mahogany, Fir or Rustic) provides the rich appearance of wood with the strength and stability of fiberglass
25 year limited warranty
True fiberglass is made entirely from very thin fibers of glass and may also be known as fibreglass and glass fibre. It is primarily used to reinforce many different polymers, such as plastic. These resulting composite materials are also commonly referred to as "fiberglass," although they are properly called fiber-reinforced polymer (FRP) or glass-reinforced plastic (GRP).
Fiberglass doors have a number of advantages over doors made from more conventional materials. They provide good insulation, making them energy efficient, and are generally longer lasting and more moisture resistant than wood doors.
Insulation
Insulation refers to the ability of a material to reduce the rate of heat transfer. Fiberglass has a much higher level of insulation than many other common materials.
Try: BobVila.com compares fiberglass doors with those of wood and steel doors, especially their respective insulative properties.
Wood grain
Many fiberglass doors are made with a wood grain finish that mimics the appearance of real wood. This is a common consideration in the purchase of fiberglass doors, as fiberglass doors can have a very convincing wood grain.
Try: Iver H. Carlson & Son discusses the qualities of fiberglass doors, especially the issue of wood grain.
Fiberglass Composite
Fiberglass composite doors are composed of fiberglass and other materials, such as plastic and wood. Most so-called fiberglass doors are actually made from a fiberglass composite.
Try: Home Tips provides a variety of tips on home repair and describes the construction of fiberglass composite doors.
R-value
The R-value is a measure of the insulation capability of a material that is used by the construction industry. Fiberglass doors have good insulators, so their R-value is relatively high.
Try: Therma Tru Doors has an extensive glossary of terms that relate to fiberglass doors, including R-value.
Fiberglass stain
It is more common to stain fiberglass doors than it is to paint them. Fiberglass stain is quite different from wood stain and requires thinner coats.
Try: Ask the Builder describes fiberglass stain and also provides specific instructions for applying it to fiberglass doors.
Catalyst
A catalyst is a substance that greatly increases the speed of a chemical reaction. The manufacturing of FRP doors involves coating a plastic form with a resin. A catalyst must be added to the resin to accelerate its curing process so that it will bond with the plastic.